Public Speaking: Most Overlooked Components your Audience Craves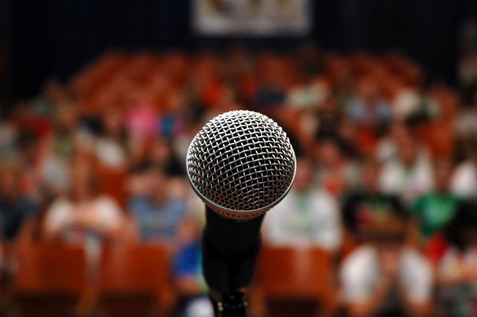 I do the work I do because I feel it in my bones. What do I mean by that? I feel a passion and yes, even a compulsion to share my story and experience with the people with whom I'm meant to connect. I love my work and my work is my play so often. It drives me.
Passion & Drive
Other people see my passion and drive too. Ryan Kauth, Small Business Development Center Director at University of Green Bay-Wisconsin, passed by one of my workshops and asked a participant what they thought of it. The participant apparently conveyed my drive, passion, and value to Ryan.
Ryan invited me to speak at his 2014 Secret$ to Success Webinar Series. These webinars are designed to help professionals and their team members increase their financial success.
You're Invited: FREE WEBINAR
I'm inviting you because I want to help you create your own success.  Register here: 5 Strategies to Break through Public Speaking & get out of your Own Way **FREE** WEBINAR.  Yes, I thought of you because I want you share with you the most overlooked critical speaking tools for success.
You might be in the same place I was years ago. In fact, there was a time when I was so fearful of being around people, that I consciously avoided it. After I realized that my fear was holding me back in a huge way, I sought out professional mentors who taught me techniques to change my mindset.
Will these Change your Life?
Those mindset techniques were life-changing for me. They afforded me the ability to pursue my life's passions. I've successfully learned how to scuba dive, ride my off-road motorcycle in the sand moguls of the Mohave desert, through the woods in mud and rocks in Central Wisconsin where I live, climb the Peton Mountains of Saint Lucia, ballet dance, and wake-board on the Fox River in Green Bay, WI, and in the ocean off of Saint Lucia. I learned ad did it all in my adult life.
Those same mindset tools are what empowered me to create Master Your Accent. I need to share them with you so too, you can pursue your dreams and move into your potential.
I'm inviting you to join in our upcoming **FREE** WEBINAR 5 Strategies to Break through Public Speaking Blocks & get out of your Own Way. Many of you have already signed up. If you haven't,
Register here: 5 Strategies to Break through Public Speaking & get out of your Own Way **FREE** WEBINAR.
It's Time for you
You won't want to miss it. If it's time for you to:
Skyrocket your speaking confidence
Speak with more impact, and
Reach a broader audience with your unique message and story,
Here's your chance…and it's **FREE**.
What you'll Gain
Here's what we'll cover:
==> 4 Emotional Blocks that Keep you Stuck & their Freeing Truths
==> Explore the inner work & communication techniques you need for empowering your voice & infusing your passion to connect with your audience
==> 3 Essential Components for Embracing in order to Authentically Connect with your Audience
==> 4 Elements of an Organized Presentation so it Runs Smoothly & Impacts your Audience
==> 5 Verbal & Nonverbal Communication Excellence Tools for Confidently Capturing & Engaging your Audience Every Time
==> The Most Overlooked Element of Public Speaking that when Utilized, Empowers you with Confidence and Spontaneity
See you There
See you at the 5 Strategies to Break through Public Speaking & get out of your Own Way **FREE** WEBINAR.
To your communication excellence in expressing your unique brilliance,
Cher
August 16th, 2014 in
Intonation
,
Leadership
,
Mindfulness
,
Public Speaking, Presenting, & Visibility
| tags:
business success
,
components of public speaking
,
connecting with audiences
,
connecting with your audience
,
effective public speaking
,
elements of public speaking
,
engaging audiences
,
expand public speaking
,
free public speaking webinar
,
free public speaking webinars
,
free webinar
,
how to break through public speaking fears
,
how to connect with people
,
how to connect with your audience
,
how to effectively present
,
how to engage audiences
,
how to expand public speaking skills
,
how to get out of your own way
,
how to overcome public speaking anxiety
,
how to present
,
how to reach more people with your message
,
how to reduce shyness in public speaking
,
how to share market your expertise
,
how to share your message
,
how to share your story
,
overcoming public speaking fears
,
presentations
,
presenting
,
pubic speaking anxiety
,
public speakign skills
,
public speaking
,
public speaking components
,
public speaking confidence
,
public speaking elements
,
public speaking empowerment
,
public speaking fears
,
public speaking methods
,
public speaking struggle
,
public speaking struggles
,
public speaking techniques
,
public speaking tools
,
public speaking webinars
,
small business tip
,
small business tips
,
speaking
,
speaking success
,
speeches
,
take public speaking to the next level
,
techniques of public speaking
,
vulnerability in public speaking
,
what audiences want
,
what to include in presentations
,
what to include in speeches